AN OVERBROAD PATENT ON pitch detection - This issued patent from Overtone Labs seeks to patent the idea of...pitch detection for resonance tuning of a musical instrument. 10 minutes of your time can help narrow US patent applications before they become patents. Follow @askpatents on twitter to help.
A new method patent was granted in August of 2013 which is extremely dangerous. The patent is being asserted against a small veteran-owned company which released an app. Other apps have fearfully withdrawn from global app markets as a result of this patent.
QUESTION - Have you seen anything that was published before 11/30/2011 that discusses:
Using power spectral analysis to tune musical instruments.
Please review Patent US8502060 The app that is being sued is being forced into cease and desist and black out social media communities 60,000 musicians strong.
Claims 1 & 13 are particularly concerning.
1: A method for resonance tuning, comprising:

Receiving a signal in response to a resonance of a structure;
Determining a frequency or musical note related to an overtone from the signal;
Selecting the frequency or musical note related to the overtone as a filter mode reference frequency or musical note; and
Suppressing a display of frequencies or musical notes from a subsequent signal that deviate from the filter mode reference frequency or musical note by a predetermined threshold.

.

13: A method for pitch detection, comprising:

Providing one or more power spectrum frequency samples;

Selecting a frequency in a frequency band having a largest power spectrum magnitude from the one or more power spectrum frequency samples, the frequency band having an upper frequency limit and a lower frequency limit.
---
"A schematic view of an embodiment of the Pitch Estimator"
FIG. 16 cited by applicant in Supplemental Examination Support Doc as providing support for Claim 13. (annotation emphasis added)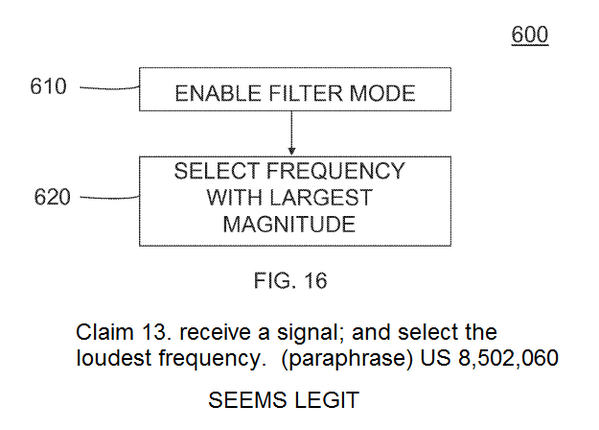 What is good prior art? Please see our FAQ.
Want to help? Please vote or comment on submissions below. We welcome you to post your own request for prior art on other questionable US Patent Applications.
---